DURVINIL® TAM PIPES (Sleeve Port Pipe)
The repetitive selective injection (IRS technique) through Durvinil TAM pipes is a proven solution, minimally invasive, and economically viable, that enables the reduction of the subsidence in urban areas, thus avoiding the occurrence of problems during excavation and underground works. The pre-treatment of the soil minimizes the risk related to public safety and potential damage to existing buildings. The risk of unexpected costs is therefore reduced.
The technology allows to improve the mechanical characteristics and permeability of porous soils and fissured rocks by injecting appropriate grout mixtures that fill the natural voids present in the ground.
The application field of grout injections isn't limited only to permeable soils made of gravel and sand or fissured rocks. Nowadays, the use of sleeved grouting pipes (also called Tubes A Manchette) combined with suitable grouting mixtures allows to widen the kind of soils to be treated.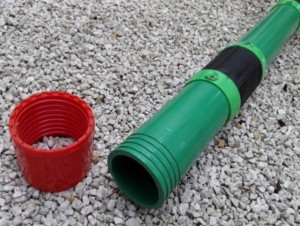 The Durvinil® TAM pipe is a sleeved pipe for grouting  of cement based mixes into the ground.
It is smooth tube with spaced ports (standard spacing is 1 ft or 2 ft). These perforations are covered by rubber sleeves, also called "manchette", which act as non-return valves: the grout pass only through the valves into the soil.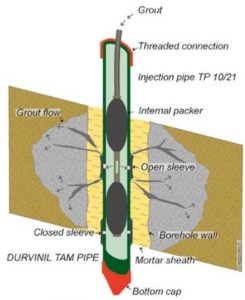 The injection can be carried out individually and repeatedly placing a double packer placed close to the manchettes.
The grouting technique by means of sleeved grouting pipes offers various benefits such as:
The injections can be repeated many stages through the same pipes/ports (IRS Grouting Injections)
It is possible to grout different mixtures for each grouting stage and

over time

The soil treatment is accurate: the sleeves are mounted on the pipes according to the customers' requirements
Injection volumes and pressure are constantly controlled during the different stages of the work (i.e with Jean Lutz Equipment)
The TAM sleeved pipes can be used in confined working spaces or with limited working height
The treatment can be executed even nearby highly sensitive structures due to the vibration-free procedure
Combined with Sireg Obturator Bags the fractured rocks can be properly injected: MPSP Technique
The injection treatments through sleeved grouting pipes are required in the following cases:
Strengthening of foundations, which may be needed due to increased structural load, restoration of ancient buildings or the creation of underground spaces below them.
Dam construction, which require waterproofing of foundation soil as well as of the abutments
Tunnel construction, where injections can be carried out sub horizontally (umbrella method), from road level in case of shallow tunnels, from a side tunnel in case of two parallel tunnels, from pilot tunnel (radial grouting method)
Compensation grouting, which is carried out in order to create a strengthened / consolidated area between the foundations of existing building and the soil below, in order to avoid settlements due to excavation of tunnel or huge underground spaces.
Large excavation pits and earthworks, in order to waterproof or consolidate, as an alternative or in addition to diaphragm walls and sheet piles.
Ground anchors, where the sleeved grouting pipe allows to carry out first the primary injection followed by a high pressure injection, granting a perfect cementation of the anchors in the bond length.
Sireg has over 30 years of experience manufacturing and supplying grouting pipes for important projects around the world. Contact us for further info.
DURVINIL® SLEEVED GROUTING PIPES
Durvinil® sleeved grouting pipes are perforated non metallic tubes with rubber sleeves mounted on the holes to prevent the flow-back of the mixtures inside the pipe.
Durvinil® pipes have both threaded ends and the connection is made through strong threaded  couplings.
| TAM pipe ID | Sleeve Spacing* |
| --- | --- |
| 1" | 1 ft |
| 1,5" | 1 ft |
| 2" | 1 ft |
*standard spacing in stock. Other spacing available on demand
| | | Available for TAM pipe (d): | Drilling diameter (D): |
| --- | --- | --- | --- |
L = 2.5 feet
*different types available on demand – nozzle for hose filling available on demand
DURVINIL® BIO SYSTEM sleeved grouting pipes are made of bioplastics designed to provide an eco-compatible solution for the injection of eco-compatible mixtures in places with special environmental conditions.
DURVINIL® BIO SYSTEM drainage pipes, thanks to their thickness, guarantee a duration of many years and at the end of their life decompose into simple products that are absorbed by the soil.
Double ring Packer (sliding packers)
These packers have been designed to grout through Sireg TAM pipes with diameters up to 1″ 1/8 with which it is not possible to use inflatable systems.
| | | | | |
| --- | --- | --- | --- | --- |
| | Rigid Type | Plastic cup | Leather cup | 1″ TAM pipes |
| | Spring Type | Plastic cup | Leather cup | 1″ TAM pipes |
Hydraulic Double Packer 30 or 42
Sireg Inflatable Double Packers are suitable for TAM pipes with diameters 1″ 1/2 to 2″ 1/2.
| | | |
| --- | --- | --- |
| | Sireg Hydraulic Packer 30 | 1″1/2 TAM pipes |
| | Sireg Hydraulic Packer 42 | 2″ TAM pipes |
Sireg Reel with injection trestle
It's the smart solution to simplify the positioning, the installation and the recovery of the packer placed inside the  Durvinil®  TAM pipes.
Sireg Reel with Injection Trestle

Reel with two injection lines.

Grout Line

Inflation line

Injection trestle equipped with gauge and taps.
SIREG USA Inc.
1552 Sun Pure Road
Avon Park FL 33825
USA Sales Department
Phone  001 786 816 0098 (Mario )
             001 (305) 934-8384 (Matteo)
Italian Main Office and International Division  
SIREG GEOTECH SRL
Via del Bruno 12
20862 Arcore (MB) – Italy
Phone 0039 039 627021
E-mail : info@sireg.it